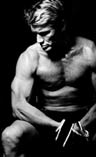 Dolph Lundgren
Actor & Kyokushin Warrior
by Silvio Morelli, Blitz (Australasian Martial Arts Magazine), Vol. 6 No. 5, Oct./Nov. 1992 (Australia)
DOLPH LUNDGREN - THE MAN BEHIND THE MOVIES
In this exclusive interview, Dolph agreed to take us behind the scenes. We took a look at his beginnings in the Martial Arts, and his progression into starring in action adventure movies. He speaks about his views on the arts and where they are heading…
Silvio Morelli: Could you give us a little bit of background on yourself. When and where did you start your martial arts training?
Dolph Lundgren: I started my martial arts training in Stockholm, Sweden, when I was about fifteen. I took up judo first, for about six months, but didn't like that. I then took up Goju Karate, which only lasted six months again. I then took up Kyokushin Kai, which I was carefully guided through by Brian Fitkin.
For a small period of time, Tae Kwon Do was also part of my training schedule, when I went to the United States on a scholarship. Returning to Sweden in 1977, I took up from where I left off with Kyokushin.
S.M. Could you tell us a little about your competition days?
D.L. I started point fighting when I was about eighteen, with W.U.K.O. rules, then went on to Japan and started knock down karate when I was about twenty years. I didn't do too well in W.U.K.O. as I was constantly nervous. I kept on getting disqualified for excessive contact. Competitively I was not successful at point fighting. I soon realised that I was more of a contact fighter, and in 1979 I went to Japan to compete. Soon after arriving I learnt that one must be a brown belt to enter such competitions, and I was only a green belt. So I entered by changing the colour of my belt, from green to brown! I fought the champion, losing the decision against him, although I was satisfied with my efforts.
S.M. What titles did you win in that time?
D.L. The two major titles I obtained were the British Open in 1981, which was then the official European Knock Down Championships. Whilst I was living here in Australia, I won the Australian Open '82, with various other National titles following these two.
S.M. Who was your toughest opponent?
D.L. In 1978, I fought Nakamura, who was the world champion, I was only a green belt with no experience and he was twenty kilograms heavier than me. That fight went to four extensions
Another difficult fight was against Jeff Whybrow, who was the British champion. Jeff then went down to light heavyweight, and I was still in the heavyweight division, so I did not have to fight him anymore after 1980.
S.M. What brought you to Australia?
D.L. I was offered a scholarship from my school in Sweden, The Royal Institute of Technology, studying chemical engineering for one year at Sydney University in 1982.
S.M. Who did you train with here?
D.L. I started a club at Sydney University, which still exists today. My training was spent with John Taylor and Nick Cujic.
S.M. How would you rate Australian Kyokushin on a world standard?
D.L. This is a difficult question to answer, because I have not had the exposure to the Australian Kyokushin circuit for ten years, although one of my toughest competitions would have been here in Melbourne, when I fought for the Australian Open in '82. I was the odd one out, being from Europe, people didn't like me too much. . . That day there had been some fierce fighting between the competitors, so "everyone was wanting a piece of me". This particular event, I would have to say was one of my toughest.
S.M. How did you come about getting involved in the film industry?
D.L. I started here in Australia where I was modelling, and appearing in television commercials, to make some money "on the side". Deciding to give up competition in 1983, I went to New York where I was about to start school in Boston, I got involved in an acting workshop. Warren Robinson (who is now a famous teacher) who was involved with the workshop, suggested that I should base a career in acting. He explained that with my looks and my certain sensitivity, he thought that I could be very successful.
S.M. What were the events' that led you lo land the co-star role in Rocky IV?
D.L. Once making the decision for a career change, there was no time for professional drama training.
I went up for a big "Cattle Call" (an audition where thousands of actors appear at, hoping to be remembered), I was turned down for the part only being told that I was too tall, the script only requiring someone six foot three, and I was six five.
I decided not to give this up because this role offered many things that really appealed to me. It as a "fighting" movie, it was a "Rocky" movie, everything that I wanted to be a part of. I decided to send a picture of myself to Stallone through a friend of mine who knew him, (as the old myth stales, it is not what you know, it is who you know) then I received a phone call from "Rocky" soon after, asking me to audition again. Six months later. . . we were asked to appear for a third audition. There was myself and two, big Russian guys to do a screen test in Los Angeles. Their acting was really poor, and their English was not fluent. So my determination was finally rewarded. I had the co-star role.
S.M. What was it like working with Stallone?
D.L. It was very interesting at that point. Stallone was at the high point of his career, and I was just "starting out". Here was a guy that had done everything and knew everything, giving me a lot of "pointers" and support at the time. He was really great. . . A pleasure to work with him. . .
S.M. How did you come to meet Van Damme?
D.L. I was discussing this particular project (Unisol) with the producers, not knowing that he was a part of the same project, this was about two years before production started. Then there was a different director, different script and different co-stars, but at some point of the discussion he (Van Damme) was suggested and everyone agreed. Our meeting was at the producers office, Carolco, in Los Angeles.
S.M. What is your personal opinion of Unisol?
D.L.I kind of like it. . . I like the movie as a film. What we set out to accomplish has been achieved. I think we hit the mark. . . I liked my performance, for the first time I did something unpredictable. The character was "wild and crazy". I took some chances, and I was pleased with my performance.
S.M. There are some really exciting and quite spectacular scenes in Unisol. Any particular one sticks in your mind as difficult to shoot?
D.L Physically and logistically speaking, the hardest one was the Hoover dam, due to the communication problems between cast and crew. . . with coming down the dam, and helicopters flying around, and the very tight security measures, it was pretty tough pace. I was quite amazed that we received permission to film due to the heavy security around the dam.
For me as actor, my favourite was the opening scene in Vietnam and the scene in the supermarket which proved to be demanding on my character. I needed to work on my character's development, which I really enjoyed.
S.M. Van Damme and yourself look in really great shape. What sort of pre-shoot training were you into for this movie?
D.L. Well, obviously knowing that Van Damme was "the other guy" in the movie, I had to train extra hard. I felt that my training for the movie was very important. I wanted to get a balance between size and athletic ability. I decided that more cardiovascular and martial arts training would be needed, because I wanted to look more cut than I had ever before. I wanted the character to move in a more "lethal" way, so when he wasn't in a robotic state, he would move more like a special forces guy. So the training consisted of a five day week, split routine on the weights every morning. In the afternoons I would either train in martial arts or run. I kept that up for a couple of months before the movie. Once shooting began, my cardiovascular training decreased, and I only continued with weights. As an actor you only have so much time, and working on the set you are consistently "burning calories" anyway.
I do want to say that, as much as I love the martial arts, when appearing in leading action and adventure movies, I think it is important not to exhibit too much technique, and to use a more "rough and tumble" street fighting type approach. This I think makes a character more of a regular type of person.
S.M. Did the two of you do any training together while filming?
D.L. We trained a little bit. We had some portable gyms on the set. We did some training in these air conditioned 40 foot trailers, working mainly with weights, otherwise most of our time together was spent choreographing fight scenes with our stunt coordinator, Vic Armstrong.
S.M. What was Van Damme like to train and work with?
D.L. He is very skilled of course, at what he does. It was a pleasure to work with him. When we meet now, we talk about the good old days, shooting the movie. Where as at the beginning of the picture, we did not know each other, so there was some feelings of apprehension.
S.M. There have been reports in the media, that you and Van Damme didn't see eye to eye. . .
D.L. Well I am a bit taller than him. . . (Ha! Ha! Ha! . . . we both laugh.)
S.M. Were there problems on the set?
D.L. Problems! No not really, no. . . The fact was that I had to sustain character a lot in the beginning of the movie, it is a huge transition from being a "good guy" to an animated "hyperactive and psychotic" character. To get the freedom of doing this stuff in front of the camera you have to work yourself up, and have to prepare quite a bit.
Due to this transition, the crew may have felt some tension from the characters experiencing this. When the crew do not know you as "you", and only see you as the character, they become a little "nervous".
S.M. Any further plans for the two of you to work together again?
D.L. No, not at the present time.
S.M. What about your future plans? What's in store for you?
D.L. I finished another movie called "Joshua Tree", two months ago. It takes place in Northern California, where a guy escapes from prison. My character has been sent to prison for a crime he has not committed, which he was "framed" for by police from Los Angeles Police Department. He is then on the run, taking a girl hostage whom he falls in love with. The police are after him, while he is constantly stealing cars to stay "on the run". It is a "high chase" movie, very fast moving.
The movie was directed by Vic Armstrong, who was also second unit on "Total Recall and Terminator". I feel this movie is a "step in the right direction" for me.
Ed. The Australian debut for the "Joshua Tree" will be next year: (Blitz readers, stay in touch for more details for the exact dates of the movies release).
S.M. So do you still find time for your personal martial arts training?
D.L. Yes I try… I was up this morning in Sydney, before I flew down here.
I really have to "squeeze" this into my schedule day by day. It is finding the "time" for martial arts training. Unless I am working on a special project, I am not going to be using martial arts in movies, this means having to make special time for my training.
S.M. It is reported in a press release that you are in training for a grading. Is that correct?
D.L. I have had my second Dan for about ten years, so I do want to attempt a grading in the very near future. But it's a bit of a problem. In Sweden there are only 2 gradings per year, and time is the factor here.
I find it very hard to make the time to train for the third Dan grading. You know, in Kyokushin third Dan is the highest technical level, which means I have to know all my kata's inside out. Re test all techniques, and there is a 50 man kumite (Fighting), so you have to be in really great shape, not just movie shape… It's not just looking good.
It's a whole different ball game, so I am trying to find about 2 months to train for it, where I don't have to go to L.A. for business. This is what I am trying to plan right now.
S.M. With such an abundance of top martial artists in the United States, do you get time to train with any of them?
D.L. I have not trained with any of them for some time. I used to train with Bill Wallace, whilst he was preparing for an exhibition fight with Thomas Herns about three years ago. He wanted someone he could spar with, who was big enough. So that was good fun… I mean the guy has great kicks, and good hands too.
S.M. Do you get to train with any regular classes or instructors?
D.L. When I go home to Sweden, I train with Brian Fitkin at my old club. When I am in the United States, I train at a Kyokushin Club in Los Angeles, which I am trying to revive, and sort of be instrumental in "shaping this club up a little more". Otherwise I train with Jun Chuong at his Tae Kwon Do studio in Beverley Hills.
S.M. In regards to your martial arts training, what was your favorite part of the training, and has that changed since?
D.L. My main thing in training back in Sweden was sparring, and competition.
I tend to like Kata more now, because there is the performance element to it. I think I have matured a lot in my martial arts, I don't need to prove anything anymore. Where fighting I was more insecure. With Kata you must take your time, you have to establish a presence… You must focus and center yourself, get involved with each movement and technique.
I like being really involved in the movements and Kata's techniques, it has a different "ingredient".
S.M. You have met and trained with Master Mas Oyama on a number of occasions. What is your impression of the man?
D.L. I did train with him in 1989 in Japan when I was there. As a matter of fact I'm going to see him in Singapore in October, there is a Commonwealth Games for Knock Down Karate, which I will be attending with Brian Fitkin to do demonstrations. (Just a little bit of news for you…)
Although when I did train with him, I found him very knowledgeable, not as "hardcore" as I thought he would be. He doesn't go on and on screaming and yelling all the time. He talks to you in depth about various movements etc., step by step. Even though these sessions are in Japanese, his methods are very unorthodox, and extensive.
Once when I was in a class, when I was not an actor and he did not know who I was, he took us through a whole session in "Ura"… We did everything in "Ura" which means you spin. We did a whole session for about 2 hours. So I didn't know where I was for about two days after that… So things like that were very interesting.
S.M. Just a final question. Your perception of the martial arts and where are the martial arts heading?
D.L. Wao! That's a tough question.
When I started training twenty years ago, youngsters my age didn't have many options in regards to sports, there was not the choices that children have today. There wasn't any aerobics, there wasn't too many gyms, etc. People were willing to put time into doing basics, and learning kata, taking punishment, sparring hard, and then coming back for more. Where as what I hear of now, the kids are a little more impatient, and if the training is too hard, or maybe they get beat up once, they don't come back… They will go to a gym, or go and do aerobics, do circuit training instead.
People seem less patient and less committed, and the club numbers are suffering. This is something that modern martial arts have to deal with…
On the other hand maybe it'll go a full circle, which is something that's happening in Sweden right now.
There is something in the fact that you can do martial arts in just your gi, you do not need other equipment. It also has the spiritual side that you can develop, which most people at some point in their lives ask themselves about. I think it's dangerous to lose katas, to lose the techniques. I think it's the wrong way to go… I think it's better to hold on to some of the traditional values, and maybe add new things, but keep the traditions, because sooner or later people will be attracted to them again.
It was a pleasure to have interviewed Dolph, as he has a very relaxed and unassuming presence. He is regarded by many as a very fine ambassador for the martial arts. After having spent on ly a short time with him, it was obvious the high regards this man has for the arts. It was refreshing to be with someone who obviously has no hang ups about his art, and who thinks the Martial Arts are more than just physical, or winning and losing… That, art, is in the heart…
Silvio Morelli