Written by Sam Hamm (Batman) based on the comics created by Alan Moore (From Hell) and Dave Gibbons. Produced by Joel Silver (Lethal Weapon, Matrix and many more). Production designer : Anton Furst (Batman). Budget : $30-40 million. Suggested cast: John Hurt (Rorschach), Rutger Hauer (Ozymandias), Tommy Lee Jones (the Comedian). According to the French magazine L'Ecran Fantastique, Silver suggested Dolph Lundgren to play "Dr. Manhattan" (he had previously proposed the part to Schwarzenegger) but this choice didn't seem to satisfy Gilliam (Brazil, 12 Monkeys). The whole production failed anyway. Rumor is that a new adaptation script was wrote to bring back the project into production, probably with a new director. Lundgren would unlikely be part of it but who knows, the role is definitely made for him.
Too bad, even without Lundgren, it would have been a great movie!

Original Screenplay by Sam Hamm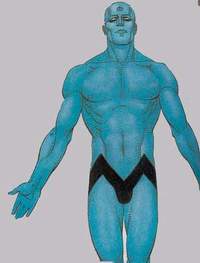 Dr. Manhattan : Blue man with a sculptural physique, he was victim of an atomic accident. Indestructible, he has become the number one United States weapon. But he no longer has any feelings for human species, which fears him and he despises. Will he use his powers to save the planet?