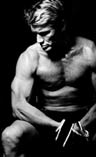 Bridge of Dragons
(1999)

Warchyld (Dolph Lundgren) is the perfect soldier. Adopted by Warlord Ruechang, he is a trained killer. What he must become is the perfect warrior.
As a soldier, he is taught only to obey. But his loyalties are swayed when he meets a young princess, fated to marry Ruechang and rule over the oppressed people. When she flees the marriage, Ruechang sends Warchyld in pursuit. Now the perfect killing machine must find the humanity within that will guide him towards rebellion and justice. his quest for honor will make him a true warrior. But before he takes that path, he must first defeat the forces of the man who saved his life... and finally face Ruechang in an explosive, bloody fight to the finish.
No Reasons! No Rules! No Submission! No Mercy!
| | |
| --- | --- |
| Isaac Florentine | Director |
| Dolph Lundgren | Warchyld |
| Cary-Hiroyuki Tagawa | Ruechang |
| Valerie Chow (aka. Rachel Shane) | Halo |
| Gary Hudson | Emmerich |
| Scott Schwartz | Belmont |
| | |
| --- | --- |
| genre | Action / War |
| rating | R for strong action violence |
| production co(s) | Nu Image / Martien Holdings A.V.V. |
| budget | $3-4 million (US) |
| location(s) | Sofia, Bulgaria |
- When director Isaac Florentine and Dolph Lundgren arrived on location, they found out the producers had a new script waiting for them, other than the one they agreed on.
- "Bridge of Dragons" has been released theatricaly in Pakistan and Croatia.
I eagerly anticipated the release of this one, being that it's one of Dolph's most recent flicks and I wasn't disappointed. It's a dramatic action movie with a great storyline, incredible cinematography and some great acting all-around. As always, Dolph shines, showing off both his acting abilities and ass-kicking superiority. The one thing I kept thinking while watching it, however, was, "Why isn't Dolph casted in bigger movies?" He's got the talent, the abilities and the charisma to make the big Hollywood productions and as much as I love the lower-budget movies he puts out, I'd love to see him on the big screen for a change. Until then, I hope he keeps putting out great movies such as "Bridge of Dragons"!
NU IMAGE presents an ISAAC FLORENTINE film DOLPH LUNDGREN "BRIDGE OF DRAGONS" CARY-HIROYUKI TAGAWA RACHEL SHANE GARY HUDSON SCOTT SCHWARTZ production designer DAVID VAROD music by STEVE EDWARDS edited by IRIT RAZ director of photography YOSSI WEIN associate producers NISSIM ALMOG CLINT LIEN executive producers AVI LERNER DANNY DIMBORT TREVOR SHORT written by CARLTON HOLDER produced by YORAM BARZILAI BOAZ DAVIDSON DANNY LERNER directed by ISAAC FLORENTINE
back to top