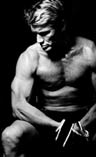 Men Of War
(1994)

Nick Gunar (Dolph Lundgren) is a burnt-out, jaded and hard-up former mercenary who is having a difficult time adjusting to civilian life. At the end of his rope, he is hired by the Nitro Mine Corporation to strong-arm the natives of a South China Sea island into giving up their rights to its valuable mineral resources. Nick loathes the thought of another mission, but this seemingly easy job will earn him enough money to get back with his estranged family. He recruits some of his former mercenary buddies to help him with the job. The island people refuse to give up their land and Nick decides to help them fight the greedy corporation that hired him. The island and its people bring Nick back to life. He finally finds something worth fighting for and a place to call home. As greed and treachery begin to unravel, Nick's band of mercenaries choose sides. Some are with him and others, still working for the corporation, will stop at nothing to destroy him.
| | |
| --- | --- |
| Perry Lang | Director |
| Dolph Lundgren | Nick Gunar |
| Charlotte Lewis | Loki |
| B.D. Wong | Po |
| Anthony John Denison | Jimmy G |
| Tim Guinee | Ocker |
| | |
| --- | --- |
| genre | Action / Drama |
| rating | R for non-stop violence, strong language and some sexuality |
| production co(s) | MDP Worldwide (Vision International) / GrandView Avenue Pictures / Pomarance Corporation A.V.V. / Signature Entertainment |
| budget | $8.6 million (US) |
| location(s) | Krabi, Phang Nga, Thailand / Chicago, IL, USA |
- (Nick) Spring era djävlar! [Run, you fucks!] (has become a cult classic line in Sweden)
- (after eating some kind of ceremonial egg with the bird still inside)
(Nick) So you guys eat these all the time, or only in ceremonies?
(Po) Are you kidding? We don't eat that shit!
- John Sayles wrote the screenplay circa 1987 under the title "A Safe Place".
- John Frankenheimer ("The Manchurian Candidate", "Ronin") was formerly attached to direct.
- Released theatrically in Japan, Spain, Italy, Belgium, France among others.
What a great movie! I didn't know what to expect from this flick, and truth be told, I thought it was just going to be a big shoot-'em-up style movie... but I was very mistaken. This was such a well-done movie - great acting, great scenery and cinematography, excellent character development, and on and on. The storyline was told so well, and there's a definite progression from scene to scene in this movie. It definitely has it's high-paced moments, but it also has some incredibly dramatic scenes that balance out all of the violence. Overall? Great flick, highly recommended.
MDP WORLDWIDE in association with POMARANCE CORPORATION A. V. V. and GRANDVIEW AVENUE PICTURES presents an ARTHUR GOLDBLATT/ANDREW PFEFFER production a PERRY LANG film DOLPH LUNDGREN "MEN OF WAR" CHARLOTTE LEWIS B.D. WONG ANTHONY JOHN DENISON TIM GUINEE DON HARVEY TINY "ZEUS" LISTER TOM WRIGHT CATHERINE BELL TREVOR GODDARD as "Keefer" and KEVIN TIGHE costume designer ILEANE MELTZER line producer JASON CLARK music by GERALD GOURIET PAUL RABJOHNS editor JEFFREY REINER production designers STEVE SPENCE JIM NEWPORT director of photography RONN SCHMIDT executive producers MOSHE DIAMANT STAN ROGOW story by STAN ROGOW screenplay by JOHN SAYLES and ETHAN REIFF & CYRUS VORIS produced by ARTHUR GOLDBLATT and ANDREW PFEFFER directed by PERRY LANG
back to top