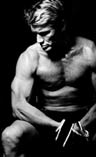 The Mechanik
a.k.a. "The Russian Specialist"
(2005)

directed by Dolph Lundgren
Dolph Lundgren (Rocky IV, Universal Soldier) stars as Nick Cherenko, a retired Russian Special Forces hitman in this fast-paced, action packed film. When his wife and young son are killed by a group of Russian mobsters, Cherenko leaves the country and starts a new life in the U.S. as a mechanic. He leads a rather peaceful life until, one day, a elderly Russian woman appears and offers Cherenko a large sum of money to rescue her kidnapped daughter. Initially reluctant to take on the job, Cherenko changes his mind when he discovers the identity of the kidnappers – the men who killed his wife and son.
| | |
| --- | --- |
| Dolph Lundgren | Director |
| Dolph Lundgren | Nikolai Cherenko |
| Ben Cross | William Burton |
| Hilda van der Meulen | Alina Cherenko |
| Olivia Lee | Julia Abramoff |
| Ivan Petrushinov | Sasha Popov |
| | |
| --- | --- |
| genre | Action / Drama |
| rating | R for strong bloody violence, language, some sexuality and drug use |
| production co(s) | Nu Image / Hoger Human Service Medien & Personal |
| budget | $3-5 million (US) |
| location(s) | Sofia, Bulgaria / St. Petersburg, Russia / Los Angeles, CA |
| | |
| | |
interesting facts
- Cinematographer Ross W. Clarkson received Gold at the 2006 Queensland A.C.S Awards and an Award of Distinction at the National ACS Awards in Australia for "The Mechanik".
- "The Mechanik" has been released theatrically in the United Arab Emirates.
webmaster's opinion
Dolph confirms his directing talents by adding realism, scope and depth to this 70's style rough and bloody revenge story that evolves into an "in your face" Sergio Leone western. As in "The Defender", he seems to focus on the other characters rather than his and give them a sense of authenticity. His ability as a storyteller shows and brings a sense of pace and drama that makes the film look much more expensive than it is, and that is a true talent for a director. Again one of Dolph's bestly directed and overall best movies.
buy this movie

(Blu-ray region A, B, C)


- (DVD region 1)

(French region 2)

(German region 2)
DVDland (Greek region 2)
DVDclub (Greek region 2)
ThaiCDexpress (Thai region 0)
NU IMAGE presents for HOGER HUMAN SERVICE MEDIEN & PERSONAL GmbH a film by DOLPH LUNDGREN DOLPH LUNDGREN "THE MECHANIK" BEN CROSS HILDA VAN DER MEULEN OLIVIA LEE casting by JEREMY ZIMMERMANN music supervisor ASHLEY MILLER special visual effects SCOTT COULTER music by ELIA CMIRAL costume designer MARTA MIRONSKA production designer CARLOS DA SILVA edited by JOSEPH PLENYS director of photography ROSS CLARKSON executive producers JACK L. GILARDI JR. AVI LERNER DANNY DIMBORT BOAZ DAVIDSON TREVOR SHORT EWERHARD ED ENGELS produced by ANTON HOEGER DAVID VAROD SCOTT PUTMAN story by DOLPH LUNDGREN written by BRYAN EDWARD HILL directed by DOLPH LUNDGREN
back to top