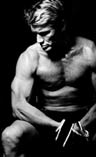 Retrograde

(2004)

In the not too distant future, a team of genetically unique men and women, lead by John Foster, make a daring, first attempt trip back in time in order to prevent the discovery of meteors containing a deadly, off-world bacteria... a bacteria that brings humanity to the brink of extinction. Unbeknowst to John, a mutinous officer named Dalton has personal greed driven plans of his own for a new life in the past. Set aboard a ship trapped in the Antarctic, fate and chance forever alter the lives of a group of scientists and polar researchers who encounter John and Dalton. The opposing time travelers soon discover that their return to the present day, sets into motion the terrible things to come.
(read the complete synopsis)
| | |
| --- | --- |
| Christopher Kulikowski | Director |
| Dolph Lundgren | John Foster |
| Silvia De Santis | Renee Diaz |
| Joe Montana | Dalton |
| Gary Daniels | Markus |
| Joe Sagal | Andrew Schrader |
| | |
| --- | --- |
| genre | Sci-Fi / Action / Adventure |
| rating | R for violence, language and some drug use |
| production co(s) | The Carousel Picture Company / Franchise Pictures / Time Studio / Gruppo Minerva / Film Fund Luxemburg |
| budget | 1.2 - $2 million (US) |
| location(s) | Luxembourg (interiors) / Italy (exteriors) |
- The picture was shot for $1.2 million (without Dolph's salary) in 18 days (with only 1,500 feets of film stock per day, not allowing any coverage), edited in 2 and 1/2 weeks and mixed in 1 day
- "Retrograde" has been released theatrically in South Korea.
"The reality of getting a film into production is nothing short of a miracle and collaboration, an integral part of the filmmaking process, can be a dream come true or a nightmare to endure. If you are lucky, your partnerships can bring your vision to a point far beyond your wildest expectations. However, if you are unlucky, the pitfalls can drive one to almost complete despair. My experience with "Retrograde," in truth, was a bit of both. I had the pleasure of working with many fine artists and technicians, but I was also challenged by a never-ending battle of time constraints, tight budgets and multiple "creative perspectives." Yet, despite these challenges and at times, disappointments, my experience on "Retrograde" was truly unforgettable. The friendships and creative magic that was forged during the production will stay with me for many years to come. " Christopher Kulikowski, April 2004, excerpt from Stormworld
I was expecting for a more mystical treatment of the story, as was "Aurora". The premise was one of the most original for a Dolph movie in a long time. But this is a very low budget sci-fi action flick which suffers from its lack of means. There is also a problem with the supporting cast who seem off. It also suffers from the compromises that the director (not happy with the released cut) had to make to please the producers. A disappointment.
buy the soundtrack
Stormworld - Stephen Melillo (composer)
FRANCHISE PICTURES presents a CAROUSEL PICTURE COMPANY / TIME STUDIO / GRUPPO MINERVA co-production with the support of FILM FUND LUXEMBOURG DOLPH LUNDGREN "RETROGRADE" SILVIA DE SANTIS JOE MONTANA GARY DANIELS JOE SAGAL KEN SAMUELS casting MONIQUE DURLACHER production design by PETER POWIS edited by PETER DAVIES costume designer CYNTHIA DUMONT music by STEPHEN MELILLO director of photography CARLO THIEL story by CHRISTOPHER KULIKOWSKI written by TOM REEVE GIANLUCA CURTI executive producers ROMAIN SCHROEDER JEREMY SAUNDERS FREDDY BRAIDY FRANCESCO JUILLAND JOSEPH MERHI produced by TOM REEVE GIANLUCA CURTI JAMIE TREACHER directed by CHRISTOPHER KULIKOWSKI

back to top