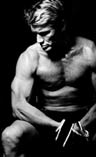 Showdown in Little Tokyo
(1991)

For 400 years, Japan has been home to a secret criminal organization dedicated to its own supremacy in the underworld. Ruled by an ancient, arcane code of honor, the deadly Yakuza have been among the most feared members of society. Even today, they are immediately recognizable by the stunningly ornate tattoos that cover their bodies, telling the terrifying story of their stature and career in a dark order that knows no mercy.
Now the Yakuza are coming to Los Angeles. But in America, they're going to meet their match.
Two cops are on their trail. One's an American raised in Japan. He's got the mind and spirit of a samurai, and the body of a human fighting machine.
The other's a Japanese-American raised in California's San Fernando Valley. He's into malls, pizza and MTV. But he can disarm five gunmen with his bare feet.
One's a warrior. One's a wise-ass. But together they've got what it takes to remove some tattoos from Little Tokyo.
"Showdown in Little Tokyo" stars action favorite Dolph Lundgren as Chris Kenner, a man fighting for his adopted heritage and his family's honor; and Brandon Lee, in his first American film role, as Johnny Murata, a guy whose idea of a good time includes knowing where--and how--to get his kicks.
Opposites in attitude, once they get on the streets, they're a perfect odd couple. And what they have in common is their enemy--the Yakuza who are bringing a lethal new drug trade to Los Angeles, coupled with a macabre taste for violence and cruelty. (from the production notes)
| | |
| --- | --- |
| Mark L. Lester | Director |
| Dolph Lundgren | Chris Kenner |
| Brandon Lee | Johnny Murata |
| Cary-Hiroyuki Tagawa | Funekei Yoshida |
| Tia Carere | Minako Okeya |
| Toshishiro Obata | Sato |
| | |
| --- | --- |
| genre | Action |
| rating | R for strong violence, and for language, sensuality and drug use |
| production co(s) | Warner Bros. / Little Tokyo Productions Inc. / Original Pictures |
| budget | $8 million (US) |
| location(s) | Los Angeles, CA |
(Johnny) "We're gonna nail this guy. And when we're done, we're gonna go eat raw fish off of those naked chicks."
- "Showdown In Little Tokyo" has been released theatrically in U.S.A., Italy, Mexico, Israel and Hungary (and Direct-To-Video in most territories).
- The picture, which only got a limited release in the US, was heavily cut (and not for violence) to 79 minutes. The opening scene notably, was much longer, and featured Kenner's previous partner. A car chase inside a mall is also cut out.
- Ranked #9 in the Hungarian 1992 Top 10 Overall Box Office Grosses, with $197,590 USD (source: 1994 Variety International Film Guide).
Great smack-'em-up humourous movie. Dolph and Lee make very entertaining partners, and both of them fill the voids between action scenes with some pretty witty lines. (see above) As far as action goes, you won't be disappointed, with two fight scenes standing out - Lundgren vs. Lee at the beginning (some amazing moves done by both) and the final sword battle between Dolph and Tagawa.
buy the soundtrack

WARNER BROS. presents a MARK L. LESTER/MARTIN E. CAAN production a MARK L. LESTER film DOLPH LUNDGREN BRANDON LEE "SHOWDOWN IN LITTLE TOKYO" edited by STEVEN KEMPER & ROBERT A. FERRETTI, A.C.E. production designer CRAIG STEARNS director of photography MARK IRWIN, C.S.C. music by DAVID MICHAEL FRANK co-producer JOHN BRODERICK written by STEPHEN GLANTZ & CALIOPE BATTLESTREET produced by MARK L. LESTER and MARTIN E. CAAN directed by MARK L. LESTER
back to top